Go back
2 September 2020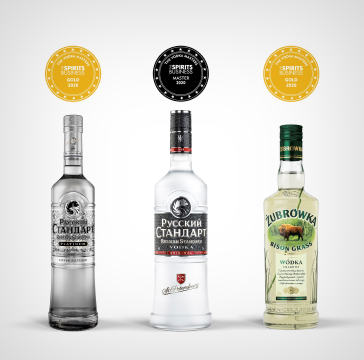 Outstanding gold medal wins at The Vodka Masters
Roust, the world's 2nd largest vodka producer, triumphed at this year's The Vodka Masters awards with a clean sweep of phenomenal wins in the Premium category. Russian Standard Original took home the much coveted Master medal, an incredible accolade for spirits that score between 90-100 points from every single judge in the blind taste test. Russian Standard Platinum and Żubrówka Bison Grass both won Gold, a principal award given to vodkas that achieve between 80-89 points from each judge. The medal wins are a true testament to Roust's commitment to producing exceptional quality spirits and superior tasting liquids.
The Vodka Masters 2020 was once again hugely competitive this year, receiving 83 entries from 38 different spirits producers. After an already hugely successful year in global tasting competitions, Roust's exceptional award wins place them in a dominant position within the industry.
Now in its 12th year, the competition is chaired by The Spirits Business and a panel of leading industry specialists that take part in a blind tasting. Each entry is separated into a specific category, and products are assessed on appearance, aroma, flavour and balance. The famous competition recognises the finest quality vodka brands from all over the world.
Roust is the 2nd biggest vodka producer in the world, and its unwavering commitment to creating quality, authentic vodka brands has been celebrated at the The Vodka Masters awards for the third consecutive year. Undefeated, the iconic vodka brands continue to be a consumer favourite across the world.
Russian Standard Vodka, the World's No. 1 premium Russian vodka (IMPACT, 2020), is set to launch its 8th Global Travel Retail Exclusive Limited Edition bottle this year. In keeping with the theme of the Limited Edition series, the design of the bottle will reflect the passion, craftsmanship and intricacy that entails the making of the vodka and the story of the brand.
Żubrówka is available in more than 80 markets worldwide and is the world's 3rd largest vodka brand (IMPACT, 2020). Last year Żubrówka Biała, Poland's best-selling vodka brand, successfully launched in the UK and more recently, this spring saw Żubrówka launch its new aromatic rose expression, Żubrówka Rose in core markets, France and Ukraine.
About Roust
Roust is the largest integrated spirits producer and distributor in Central and Eastern Europe and the second-largest vodka producer by volume in the world, with over 35 million 9l cases sold annually in more than 85 markets. Roust owns production facilities and distribution centres across Poland, Hungary, Russia and Italy. Roust's extensive portfolio includes flagship vodka brands Russian Standard, Green Mark, Parliament as well as the authentic Polish vodka Żubrówka. Gancia, the legendary Italian company that created the first Italian sparkling wine is also part of Roust. Roust's Founder and Chairman of the Board of Directors is Roustam Tariko.
About Russian Standard Vodka
Russian Standard Vodka is the World's No. 1 premium Russian vodka, available in over 85 markets across Europe, the US and Asia. Russian Standard Vodka is the founder of the premium vodka segment in Russia and commands global sales of over 3.6M cases. Russian Standard Vodka is carefully crafted using water of glacial origin from Lake Ladoga and winter wheat from the Russian Steppes and is distilled over 200 times in a state of the art distillery in St Petersburg. The result is a unique unrivalled liquid that is ultra clean, smooth and delicious.
About Żubrówka
Żubrówka Bison Grass is Poland's most iconic vodka, with each bottle containing a blade of rare, handpicked bison grass. The legend of Żubrówka started in the wild primeval forests of Bialowieza where majestic bison roam freely and enigmatic bison grass grows. Produced exclusively at a state-of-the-art distillery in Bialystok, Poland, this grain-based vodka goes through multiple distillations before the addition of pure bison grass essence to create a truly distinctive taste with underlying herbaceous and vanilla tones.