Go back
20 December 2018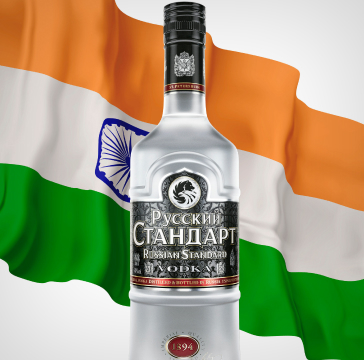 Russian Standard Vodka launches in India
Russian Standard Vodka, world's #1 Russian premium vodka, is pleased to announce the launch Russian Standard Original in India through a partnership with Monika Enterprise, managed via it's UAE distributor partner MMI
"We are excited to introduce millions of consumers in India to the number-one premium vodka in Russia. Due to the recent trend toward the consumption of imported brands and a big potential of the alcohol market - 300 million 9l cases per year - we are confident that Russian Standard will become one of the favorite brands in this fast evolving country," comments Jonathan Ashworth, Managing Director EMEA, at Roust International.
Kunal Patel, Director Monika Enterprises added: "Monika Enterprises is proud to be associated with the best Russian vodka the world has experienced. We have been known for more than three decades for our expertise in importing premium spirits and wine and Russian Standard is a great addition to our portfolio. We look forward to reaching out to new consumers through a range of On premise and retail channels".
India is one of the world's fastest growing economies and second largest liquor market. The Indian branded spirits market has grown at a rate of over 20% in 10 years, reaching around 4.5 bn USD, and is expected to increase by 10% in the coming years.
The Russian Standard Vodka portfolio dominates the premium segment in Russia with a more than 30 percent market share and global sales of over 3.4 million 9l cases in 2017 in Russia and more than 80 export markets across Europe, the U.S. and Asia. Russian Standard is the 2nd biggest vodka brand in the UK and Israel, #3 in Germany and France. In 2018, Russian Standard has risen to the 16th place amongst the world's best-selling vodka brands (Drinks International).
Roust is the largest integrated spirits producer and distributor in Central and Eastern Europe and the second-largest vodka producer by volume in the world, with over 30 million 9l cases sold annually in more than 80 markets. Roust owns production facilities and distribution centres across Poland, Hungary, Russia and Italy. Roust's extensive portfolio includes flagship vodka brands Russian Standard, Green Mark, Talka, Parliament and Zhuravli, as well as the legendary Polish vodka Żubrówka.