Go back
29 March 2021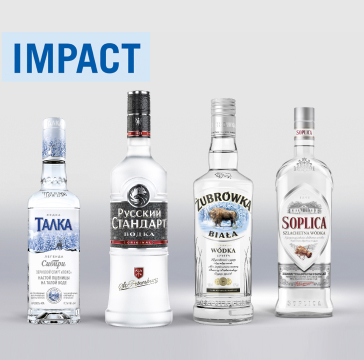 Roust vodkas rise in top 100 spirits brands
Roust vodkas strengthened their positions in TOP 100 spirits brands


FOUR ROUST BRANDS RECOGNIZED AS THE MOST POPULAR IN THE WORLD
Roust vodka brands have moved up in the TOP 100 Spirits Brands Worldwide by Shanken's IMPACT magazine, an established international expert in the alcohol market.
Shanken's IMPACT rating includes premium and non-premium alcoholic beverages and is based on global sales data for 2020 and growth rates in comparison with the previous year.
Russian Standard ranked #7 best-selling premium vodka brand worldwide, ahead of Skyy, Grey Goose and Finlandia. In 2020, Russian Standard continued its international expansion, launching in China and Nigeria with global sales increasing to 3.7M 9-liter cases.
The world's #1 Polish vodka Żubrówka boosted global sales to reach a record-breaking 10M 9-liter cases and has become the 22nd largest spirit brand in the world. It has won the second place in TOP-3 best-selling global vodka brands, for the first time ever leaving behind Absolut - which declined by 14% and dropped out of the top 3 biggest players.
The outstanding performance of Żubrówka was driven by its strong leadership in its homeland, Poland. The Polish market is ranked as the largest in terms of spirits sales volume in Europe, and Zubrowka has +20% share of this market. Other key success factors included an increase in international sales - with Żubrówka Biała growing by an impressive 75% and the new Żubrówka Rose variant being introduced in core markets such as France.
The world's #1 Polish flavored vodka Soplica moved up four positions to take 55th place, with global sales rising to over 4.3M 9-liter cases. Soplica has also entered the TOP 10 best-selling vodka brands globally.
Talka sales have shown an impressive 12% increase up to 2.8M 9-liter cases and Talka is now the 92nd top-selling spirits brand worldwide.
The international success of Roust vodka brands has been consistently validated for over 15 years by industry experts such as Drinks International, IWSR and IMPACT.
About Roust
Roust is the second-largest vodka producer in the world, with over 34M 9l cases sold annually in more than 85 markets. Roust owns production facilities across Poland, Russia and Italy. Its extensive portfolio includes Russian Standard, the world's #1 premium Russian vodka, Żubrówka, the world's #2 largest vodka globally and other flagship brands, Green Mark, Parliament and Talka.
The portfolio also includes Gancia, the first Italian sparkling wine. Roust Group's Founder and Chairman of the Board of Directors is Roustam Tariko.