Go back
3 August 2021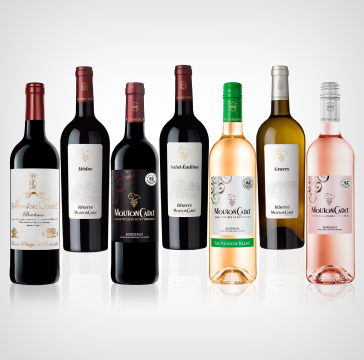 Baron Philippe de Rothschild wines are on their way to Russia
Roust Group, the largest producer and distributor of alcoholic beverages in Central and Eastern Europe, and famous French wine company Baron Philippe de Rothschild have formed a mutually beneficial distribution partnership.

As part of the agreement, Roust Group will exclusively distribute and provide marketing support for 3 ranges of Baron Philippe de Rothschild wines: Mouton Cadet, Baron Philippe de Rothschild Bordeaux and Baron Philippe de Rothschild Pays d'Oc.
Véronique Hombroekx, Deputy Managing Director of Baron Philippe de Rothschild SA said: "We are delighted with this new partnership with Roust Group that will give a new dynamism for Mouton Cadet on this key market, and, I am convinced, will allow Russian consumers to rediscover Mouton Cadet."
Ivan Alferov, Managing Director of the International Agency Brands Business at Roust said: "The still wines market in Russia showing the steady growth has the highest potential for development, and I am confident that Baron Philippe de Rothschild wines will be appreciated by consumers at their true value and show excellent sales dynamics due to the unique experience of our company".
Roust Group is one of the largest alcoholic beverages distributors in Russia. In the 1st quarter of 2021 the wine area of Roust's business showed a clear positive trend with the growth of wine sales increasing by 52% vs the same period of the previous year. French wines are one of the most popular wines categories of Russian consumers; according to customs statistics they are in TOP 5 of imported wines in 2020. This segment is also one of the growth drivers in the wine category in national chains, at the end of 2020 it is counted among the TOP 3 countries in the imported wines category in Russia while showing a double-digit sales growth of +16% with the premium French vines growth reaching 20% vs 2019.
Baron Philippe de Rothschild created Mouton Cadet in 1930 in order to bring the richness of the prestigious Bordeaux terroir to a wider audience. The brand has since become a symbol of the Bordeaux wine region. For 90 years now, Mouton Cadet has demonstrated mastery of the trademark Bordeaux art of blending, with the primary objective of obtaining the best expression of terroirs and grape varieties. Mouton Cadet also owes its quality to its 250 partner winegrowers and 7 winemakers, who work hand in hand from pruning the vines to the end of the vinification process to offer a wine that expresses all the richness of the Bordeaux terroirs.
Mouton Cadet wines have won international recognition and many prestigious awards, including the medals of Mundus Vini, Decanter World Wine Awards, International W&S Competition, Concours Mondial de Bruxelles and many others. Today the company's products are exported to more than 120 countries around the world.