Go back
3 March 2020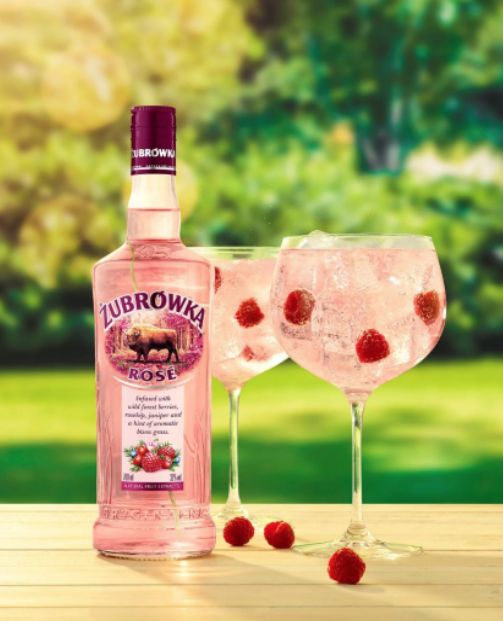 Żubrówka Launches a New Rosé expression
Crafted for those seeking a lighter, fruitier and more refreshing taste, Żubrówka Rosé is the ultimate aperitif accessory. Żubrówka Rosé is the perfect accompaniment for outdoor sun worshipping, launching in France and the Ukraine in Spring 2020 with expansion into other core markets planned for later in the year. With a low ABV of 32%, Żubrówka Rose is carefully crafted with natural botanical fruit essences to give it a unique fruity and aromatic flavour profile, which retains a hint of Żubrówka's intrinsic Bison Grass flavour.
The legendary Bison Grass is renowned for its hibiscus and vanilla flavour, and is hand-picked in the Polish forest before being infused into every bottle of Żubrówka Bison Grass, giving it its unique flavour and aroma. Żubrówka Rosé continues this iconic tradition and also features a single blade of grass hand placed into each bottle.
Żubrówka Rosé responds to a rising trend of lighter ABV serves, offering an option for those that want a refreshing taste alongside lower alcohol content. Żubrówka have kept quality in mind when creating the new Żubrówka Rosé, creating fruit essences from natural produce, using no artificial flavours, 100% non-GMO grain and Bison Grass, along with wild rosehip fruit, raspberry and cranberry extracts, all produced in Bialystok, Poland.
From grain to charcoal filtration, the spirit maintains its authentic and premium recipe. Żubrówka Rosé is blended with naturally demineralised water creating alcohol reduction to 32% ABV. Each bottle is approved by experts to maintain its flavour quality.
Rebecca Heathcote, International Marketing Director at Roust says: "We are hugely excited about Żubrówka Rosé. It is a great representation of what we are striving to achieve across the brand by delivering a lower ABV drink option for consumers that perfectly fits the aperitif moment. Not only is it attractively pink, but it's refreshingly fruity and full of berry flavours and makes for the ideal long serve mixed with tonic and ice. A huge amount of thought and craftsmanship has gone into creating such a light and delicious flavour, perfect to enjoy in the sunshine with friends."
Every single bottle of Żubrówka Rosé is hand decorated with the synonymous single blade of Bison Grass for which the Polish brand is famously known.