Go back
13 October 2020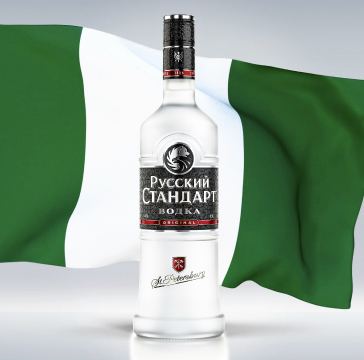 Russian Standard Vodka launches in Nigeria
THE FIRST RUSSIAN VODKA IN NIGERIA
Roust Group, the world's 2nd largest vodka producer, is pleased to announce the launch of Russian Standard premium vodka in Nigeria.
Roust Group has partnered with NEXT International Brands Limited, one of the leading distributors of premium wines and spirits, to launch Russian Standard Vodka in Nigeria.
Russian Standard is the world's no. 1 Russian premium vodka (IMPACT, 2020). The brand sells over 3.6M 9-liter cases yearly in more than 85 countries. Russian Standard is carefully crafted using water of glacial origin from Lake Ladoga, winter wheat from the Russian Steppes and is distilled over 200 times in a state of the art distillery in St Petersburg. The result is a unique unrivalled liquid that is smooth and delicious.
Growth in the African region is part of Roust Group's strategy of accelerating global expansion.
Jonathan Ashworth, Managing Director EMEA Region at Roust Group, comments, "In our mission to bring affordable luxury to everyone worldwide, we continue to drive Russian Standard Vodka distribution and increase our presence in key regions. Together with NEXT International Brands Limited, we are entering one of the major markets on the African continent and are targeting to become #1 player in imported vodka segment, reaching the volume of 50K 9-liter cases within 3 years perspective. In addition to Russian Standard Vodka, we are finalizing the launch of the first Italian sparkling wine Gancia and the legendary Polish brands — Żubrówka Bison Grass iconic infusion with more than 500 years of history and the world's #3 best-selling vodka Żubrówka Biala".
Wale Dosunmu, Managing Director at NEXT International Brands Limited, said, "We are excited to bring this premium offer to the Nigerian consumers and raise the vodka standard and experience in the country. Since its entry into the market, Russian Standard Vodka has already gained a lot of acceptance from socialites and top-end consumers. Currently a robust grass root campaign is bringing the brand closer to consumers through events online and offline, as well as a strong social media presence".
About Roust
Roust is the second-largest vodka producer in the world, with over 35M 9l cases sold annually in more than 85 markets. Roust owns production facilities across Poland, Russia and Italy. Its extensive portfolio includes Russian Standard, the world's #1 premium Russian vodka, Żubrówka, the world's #3 largest vodka and other flagship brands, Green Mark, Parliament and Talka. The portfolio also includes Gancia, the first Italian sparkling wine. Roust Group's Founder and Chairman of the Board of Directors is Roustam Tariko.