Go back
2 October 2020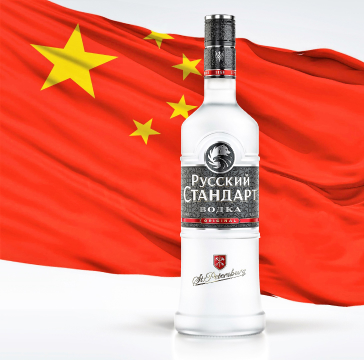 Roust Group announces the launch of Russian Standard Vodka in China
Roust Group, the world's 2nd largest vodka producer, is pleased to announce the launch of Russian Standard Vodka in China.
Roust Group has partnered with Beijing Soko and launched Russian Standard Vodka, the world's No. 1 Russian premium vodka, in China.
Russian Standard Vodka is the founder of the premium vodka segment in Russia and commands global sales of over 3.6M cases in more than 85 markets across Europe, the US and Asia. Russian Standard Vodka is crafted using water of glacial origin from Lake Ladoga and winter wheat from the Russian Steppes and is distilled over 200 times in a state-of-the-art distillery in St Petersburg. The result is a unique unrivalled vodka that is smooth and delicious.
"We are pleased to introduce consumers in China to the world's number-one Russian premium vodka through our partnership with Beijing Soko. This launch represents another step in becoming a leading player in a global premium vodka market. We are confident that our brands are positioned well in the Chinese market and we look forward to growing our sales and market share quickly," Mark Wood, Regional General Manager Asia Pacific, at Roust Group said in a statement.
Dmitry Sokolov, owner of Beijing Soko said, "Russian Standard is the only premium vodka available in China that is truly Russian because it is 100% produced in Russia, made with Russian ingredients, distilled and bottled in Russia, and has strong credentials as world's number-one Russian premium vodka brand. We are excited to bring Russian Standard to Chinese vodka consumers and are confident that the brand is well positioned for success in this market."
Roust Group continues to grow fast and gain market shares in Asia-Pacific region following a strong 2019. Volumes for 2020 are expected to grow by 20% to over 2.15 million liters with a strong performance in key markets as Australia and Japan.
About Roust
Roust is the largest integrated spirits producer and distributor in Central and Eastern Europe and the second-largest vodka producer by volume in the world, with over 35 mln 9l cases sold annually in more than 85 markets. Roust owns production facilities and distribution centres across Poland, Russia and Italy. Roust's extensive portfolio includes flagship vodka brands Russian Standard, Green Mark, Parliament, Talka, the authentic Polish vodka Żubrówka and the first Italian sparkling wine Gancia. Roust Group's Founder and Chairman of the Board of Directors is Roustam Tariko. In Q2 2020, Roust's international sales showed an increase of 14% vs Q2 2019.