Go back
21 October 2020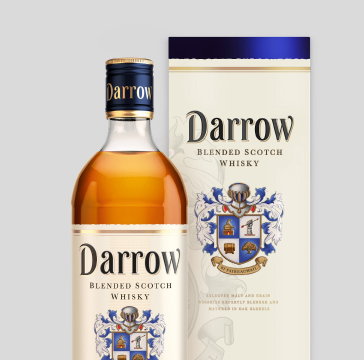 Roust launches Darrow scotch whisky in a gift box
Roust Group, the world's seventh largest spirits marketer*, announces the launch of its own Darrow Scotch whisky in a gift box in Russia.
Darrow whisky is distilled, blended and bottled at one of the best distilleries in Scotland. High quality malt and grain spirits from Highland, Speyside and Lowland are aged in charred white oak barrels which give this authentic Scotch whisky a rounded taste with traditional notes of oak and hints of smoke.

In September 2019, Roust launched its own 100% Scotch whisky brand Darrow in Russia, capitalizing on the trend of consumers seeking more authentic products. In 2020, the whisky category in Russia grows +3% by volume and +6% by value vs last year**. Scotch whisky continues to lead the category with over 50% share. The Darrow Scotch whisky gift box will be distributed across the largest retail chains in Russia starting from October 2020.
About Roust
Roust is the second-largest vodka producer in the world, with over 35M 9l cases sold annually in more than 85 markets. Roust owns production facilities across Poland, Russia and Italy. Its extensive portfolio includes the world's #1 premium vodka Russian Standard, the world's #3 vodka Żubrówka, other flagship brands - Green Mark, Parliament, Talka, and Gancia, the first Italian sparkling wine. Roust Group's Founder and Chairman of the Board of Directors is Roustam Tariko. www.roust.com
* Source: IMPACT, 2020.
** Source: KAI index, sales volumes in key federal retail chains in Russia in H1 2020.