Go back
23 September 2021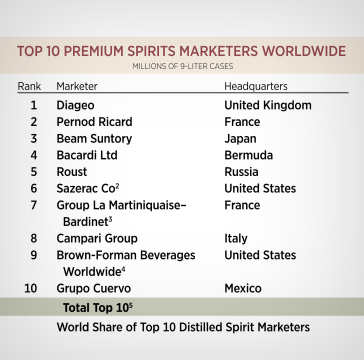 Roust Group in TOP 5 Global Spirits Marketers
Roust Group in TOP 5 Global Spirits Marketers

Roust strengthens its position and remains the only Russian company in the ranking
Roust Group has taken #5 position among the TOP 10 Global Spirits Marketers according to Shanken's IMPACT magazine, a leading source for alcohol beverage industry statistics.
Shanken's IMPACT ranking of the TOP 10 Global Spirits Marketers – published annually in September – is based on 2020 sales volumes of owned and agency brands, excluding sparkling and still wine, beer and RTDs.
In this year's report, Roust has jumped from 7th to 5th place in the list of the largest spirit marketers, increasing 2020 volumes by 2.5% and becoming the only alcohol player in the Top 5 to show positive sales growth. Conversely, long-term leaders of the ranking - Diageo and Pernod Ricard - registered double-digit decrease of sales volumes by -13.5% and -12.6% respectively.
Shanken's IMPACT highlighted Roust's success: "Over the past two years the sales volume of the Roust Group of Companies increased by 2.9 million 9l cases amid lower or negative dynamics of the main global competitors due to the strong alcoholic brands in the portfolio and further international expansion."
About Roust
Roust is the largest integrated spirits producer and distributor in Central and Eastern Europe and the second-largest vodka producer by volume in the world, with 35 mln 9l cases sold annually in more than 85 markets. Roust owns production facilities and distribution centres across Poland, Russia, Hungary and Italy. Roust's extensive portfolio includes flagship vodka brands Russian Standard, Talka, Green Mark, Parliament, the authentic Polish vodka Żubrówka and the first Italian sparkling wine Gancia. Roust distributes over 70 international brands from world's largest alcohol producers, including Rémy Cointreau Group, Mast-Jägermeister SE, William Grant and Sons, E.J. Gallo, Lucas Bols and others.