Go back
9 November 2021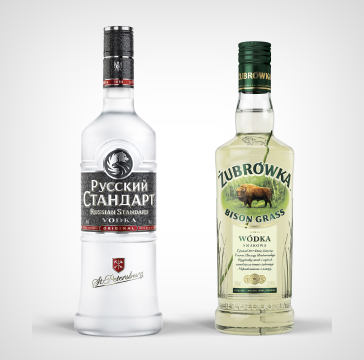 Russian Standard vodka is the 2nd largest vodka brand in GTR
Two flagship brands in the Roust portfolio were included in the ranking of the TOP 50 Spirits Brands in Travel Retail by Global Drinks Intel, one of the leading sources of market intelligence of the global beverage alcohol market.



Russian Standard Vodka, the world's no. 1 Russian premium vodka, showed significant growth in 2020 and has become the second vodka brand in GTR ahead of Stolichnaya and Smirnoff while remaining the only Russian vodka in the TOP 50.
Russian Standard has also been ranked 8th among the TOP 50 Spirits Brands in Travel Retail by Volume 2020. Due to the growth in sales volumes in all key markets, Russian Standard surpassed brands such as Nemiroff, Bacardi and Grey Goose in the ranking.
The legendary Żubrówka Bison Grass distributed by Roust across international markets has also shown dynamic growth, taking 45th place in the ranking of the largest alcohol brands and 9th place among vodka brands, expanding the lead over Belvedere.
Roust Managing Director of Global Travel Retail Elina Fruin said: "We have been working incredibly hard to be there for our customers, listening to their needs and concerns, trying to address these and being as flexible and collaborative as possible. This gave us a better understanding of travellers' purchasing habits, enabling us to develop stronger commercial plans and growth drivers".
Roust brands are available in over 85 countries and more than 1,000 international airports.