Go back
21 March 2022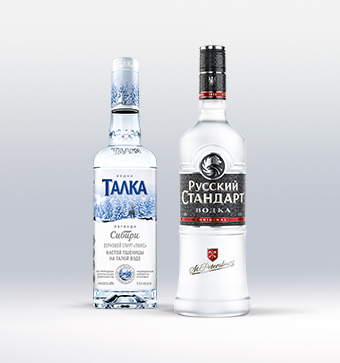 Roust vodkas rise in top 100 spirits brands
Roust vodka brands have been ranked among the TOP 100 Spirits Brands Worldwide by Shanken's IMPACT magazine, a leading source for alcohol beverage industry statistics.
Shanken's IMPACT rating includes premium and non-premium alcoholic beverages and is based on global sales data for 2021 and growth rates in comparison with the previous year.

Russian Standard remains unrivalled as world's #1 Russian premium vodka. With the sales of 3.7 million 9l cases in 2021, it has risen to the 34th place among the best-selling vodka brands worldwide. In 2021, Russian Standard continued its international expansion, launching in Japan.

Talka sales have shown an impressive 17% increase up to 3.3 million 9l cases and Talka is now the 88th top-selling spirits brand worldwide.

The international success of Roust vodka brands has been consistently validated for over 15 years by industry experts such as Drinks International, IWSR and IMPACT.