Go back
26 January 2023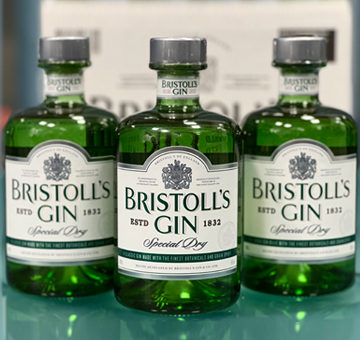 Roust launches own brand of gin - Bristoll's
Roust Corporation, one of the largest producers and distributors of alcoholic beverages in Russia, announces the launch of the first own brand in the gin category - Bristoll's.
Bristoll's was successfully launched in January, 2023 and its launch will allow Roust to take a significant position in the growing category of gin, which is one of the fastest growing categories on the Russian market with annual growth of sales volumes of more than 40%.

The design of Bristoll's gin was developed by the Roust design studio in London, which has many years of experience in creating product designs for the Russian alcohol market. The professionalism of the studio allowed to successfully implement the results of the research into the final appearance of Bristoll's gin, allowing the product to stand out on the shelf, demonstrating respect for the traditions and heritage of the production at the same time.

Bristoll's Special Dry is made using a special technology, born in 1832 in England. Aromatic spirits of juniper, cardamom, lemon and orange zest produced by distillation are used in the production, as well as a specially developed combination of five spices to give the gin an exceptional taste and aroma. The master blender pays special attention to the uniqueness of the ingredients and selects them by hand, additionally insisting to enrich the taste of the drink. Subsequently, the drink is bottled in a bottle of coated green glass, which distinguishes the brand from competitors.

Roust Corporation plans to further expand its own gin range later in 2023 to meet the needs of modern consumers. Refined rose gin Bristoll's Pink is planned for launch in Q2, which will include natural flavors of berries, giving a juicy taste and a gentle sweet aftertaste.

Bristoll's gin will soon be available in federal retail chains across Russia. The drink will be presented in the standard price category.