Go back
8 April 2021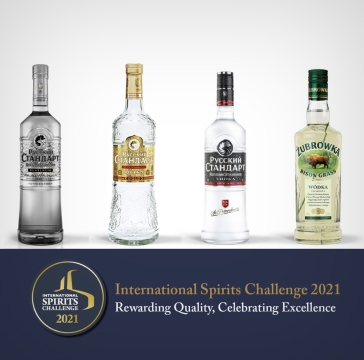 Roust brands scoop more medals at international spirits challenge
Roust, the largest integrated spirits producer and distributor in Central and Eastern Europe, triumphs yet again with a 4th consecutive medal win at the International Spirits Challenge 2021.

Iconic global brands, Russian Standard and Żubrówka Bison Grass were all awarded silver medals at this year's awards, with Russian Standard receiving medals across its whole portfolio for Russian Standard Original, Russian Standard Gold and Russian Standard Platinum. Recognised by judges for their superb liquid and outstanding flavour, the accolades are testament to Roust's commitment to producing exceptional quality spirits and superior tasting liquids.
These latest high-ranking wins for Russian Standard Vodka and Żubrówka further cements their position as two of the most commanding vodka brands in the spirits industry.
The most authoritative, respected and influential spirits competition in the world, the ISC is now in its 26th year and prides itself on being the premier event in promoting outstanding quality spirits worldwide. Brands can expect a rigorous and independent judging process, which sees a high calibre of spirits, designs and campaigns entered each year. Receiving more than 1,800 entries from nearly 70 countries worldwide makes the ISC a truly global competition and prestigious award to win.
Russian Standard Vodka is the world's no. 1 Russian premium vodka (IMPACT, 2021) with global sales of over 3.7M cases. Russian Standard Vodka is carefully crafted using water of glacial origin from Lake Ladoga and winter wheat from the Russian Steppes and is distilled over 200 times in a state-of-the-art distillery in St Petersburg.
Żubrówka is the world's 2nd largest global vodka brand (IMPACT, 2021) and is available in more than 80 markets worldwide. Żubrówka Bison Grass is Poland's most iconic vodka, with each bottle containing a blade of rare, handpicked bison grass.