Go back
19 October 2020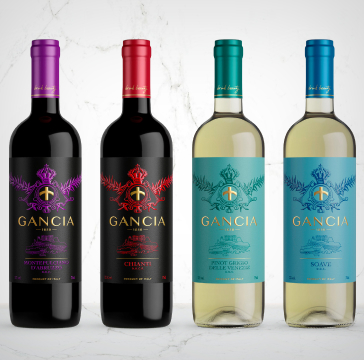 Casa Gancia launches still wines in Russia
Casa Gancia, the producer of the world's first Italian sparkling wine and white vermouth, is proud to announce the launch of its first collection of still wines in the Russian market.
The Gancia still wine portfolio is carefully crafted using traditional Italian wine making processes and boasts DOC and DOCG status, the highest classifications of Italian wine quality. The portfolio consists of both red and white wines, produced from premium Italian grapes:
Red wines are represented by the delicate Gancia Merlot, the aromatic Gancia Montepulciano d'Abruzzo DOC and the legendary Gancia Chianti DOCG, from the Sangiovese grape variety, produced in the Tuscany.
White wines are represented by the mild Gancia Pinot Grigio DOC and the refreshing Gancia Soave DOC from the Garganega variety grown in the vicinity of Veneto.
The diverse and authentic collection of Gancia still wines will be available on the shelves of major federal and local retail chains throughout Russia from October.
In 2020, imported still wines grew in Russia by 19%, outpacing the total still wines category. The wines of Europe traditionally occupy a leading position in the category of imported wines.
About Gancia
Founded in 1850 by Carlo Gancia, the creator of the first Italian sparkling wine, Gancia is an international leader in the category of sparkling wines, aperitifs and vermouth, with over 30 million bottles produced annually. Gancia is distributed in more than 65 countries. The Gancia sparkling wine portfolio ranges from sweet to dry and from Charmat method to prestige vintages of Classic Method - fermented for more than five years.