Go back
2 February 2020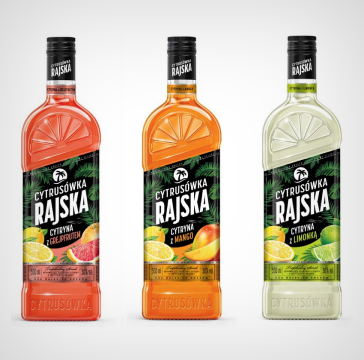 New Rajska Cytrusówka Flavoured Vodka
To meet market trends, Roust launches a completely new brand on the Polish market - Rajska Cytrusówka flavored with tropical fruit. Flavored vodkas are an increasingly important market segment and already half of the vodka consumers reach for flavored alcoholic products.
Consumers are eager to choose lighter products with a lower alcohol content and fruity, less dry flavors. Citrus and exotic flavors are becoming more and more popular among flavored alcohols.
- Thanks to our novelty, we want to transfer consumers to the climate of paradise islands, where they can relax and feel the refreshing taste of citrus fruits. Our new brand is 3 innovative flavors based on lemon, complemented by a second exotic taste: mango, lime or grapefruit - says Kamil Jędrzejewski, Senior Brand Manager at Rajska Cytrusówka.
All three variants of Rajska Cytrusówka are based on high-quality ingredients: refreshing lemon and exotic fruit, which, when properly balanced, creates an exotic taste and natural color.
Rajska Cytrusówka Lemon with Lime is a refreshing combination whose strength lies in the double citrus flavor.
Rajska Cytrusówka Lemon with Grapefruit is a combination of a ripe lemon and a characteristic grapefruit note.
Rajska Cytrusówka Mango Lemon is a natural lemon juice combined with mango sweetness.
The launch of the new Rajska Cytrusówka brand will be supported by communication at points of sale using POS materials and special citrus zones, which are an innovative feature in this category. Launch of Rajska Cytrusówka is also supported by activities in digital and PR channels.
Rajska Cytrusówka Lemon with Lime, Rajska Cytrusówka Lemon with Grapefruit and Rajska Cytrusówka Lemon with Mango are available from the end of February, in traditional and modern trade channels, in bottles with a capacity of 100, 200 and 500ml. The recommended price in the traditional sales channel is PLN 4.99 for 100ml, PLN 9.99 for 200ml and PLN 24.99 for 500ml.