Go back
11 May 2020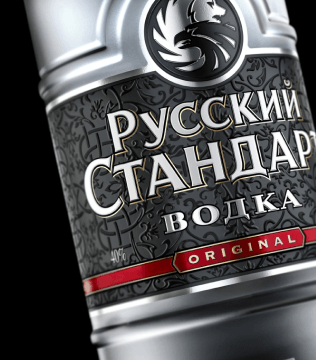 Global Relaunch of the World's #1 Premium Russian Vodka
Russian Standard Vodka, the world's Number One premium Russian vodka, announces the re-launch of legendary Russian Standard Original with updated packaging.
Russian Standard Original's superior taste is reflected in a new, more minimal and sophisticated design, which has been developed to strengthen emotional connections with consumers. The modern look of the brand fully meets the latest market trends, as well as new consumer perceptions and requirements of premium brands, whilst showcasing its history of creation and Russian origin.
The new minimalist design has increased emphasis on the logo and brand name. An additional, premium silver label highlights Russian Standard Vodka's origins in the city of St Petersburg – Russia's cultural capital and the traditional center of vodka production. St. Petersburg is home to the most state-of-the-art distillery in the country, producing only the finest, most premium Russian Standard vodkas. The signature bell-shaped bottle has been redesigned for a lighter and more elegant product, finished with a unique cap design that was developed especially for new Russian Standard Original.
Roustam Tariko, Founder and Chairman of the Board of Directors of Russian Standard Holding, commented: "Established in 1998, the Russian Standard brand set a high benchmark for the entire industry in terms of the quality of vodka and its packaging. Today we are pleased to present the first revolutionary update and offer a modern perception of the traditions of high quality of the best Russian premium vodka in the world."
Russian Standard is the creator and leader of the premium vodka segment in Russia, with a 30-percent market share. Russian Standard is the leading Russian export brand and is available in over 85 countries and 1,000 international airports. Having sold 3.5 million 9-liter cases in 2018, Russian Standard strengthened its position in the rankings of the largest vodka brands in the world. For over a decade, the brand has received awards year-on-year, including gold medals at numerous prestigious tasting competitions: The International Spirits Challenge (2019, 2018, 2017), Ultimate Spirits Challenge (2019), The Spirits Business Vodka Masters (2019, 2018, 2017, 2016, 2014) and others.
Russian Standard Vodka is the only Russian manufacturer of premium vodka, which exercises complete control at all stages of production, 'from grain to drop'. Russian Standard Vodka is made with only the finest ingredients, using water of glacial origin from Lake Ladoga and selected winter wheat from the Russian Black Soil Region. Spirit of the highest quality is produced at the company's alcohol production in the Republic of Tatarstan and exceeds EU requirements for purity 100 times.
The updated Russian Standard Original is available in stores from October.