Go back
17 December 2019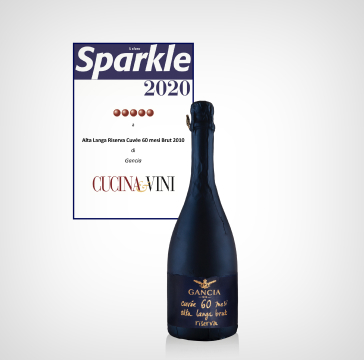 Gancia on Italy's list of the best sparkling wines
Fratelli Ganica & C. S.p.A, producer of the first sparkling wine in Italy, announced that Gancia Alta Langa Riserva Cuvée 60 mesi Brut is included in Italy's The Sparkle 2020 ranking of the best sparkling wines with the highest rating of Five Spheres.
The award ceremony and presentation of The Sparkle 2020 ranking took place on the 30th November in Rome. The publisher of the rating and the permanent organizer of tasting contests, the established Italian magazine Cucina & Vini gathered this year over 70 sparkling wine producers.
The Sparkle 2020 includes the best sparkling wines made in Italy, as well as food pairing recommendations, being a reference book for both industry professionals (sommeliers, restaurateurs, winemakers) and millions of sparkling wine lovers around the world.
Gancia Alta Langa Riserva Cuvée 60 mesi Brut is awarded the highest mark - Five Spheres - and is recognized as the best wine in the category, ideally combining all the components of an excellent sparkling wine: the territory of origin, elegant design and rich flavor. Aged for 60 months in Gancia's UNESCO protected historical cellars, this unique dry sparkling wine is a blend of prestigious Pinot Noir and Chardonnay varieties from the lands of the Alta Langa region, which allow to grow unique grapes due to rare natural conditions.
Gancia sparkling wines are included in The Sparkle ranking annually and, over the past five years, have been awarded the highest rating four times, whilst the total number of spheres has reached 38.
Earlier this year, Fratelli Gancia & C. S.p.A won an Oscar at the prestigious Douja D'or competition in Italy, as well as a Gold and two Silver medals at the New York World Wine & Spirits Competition in the United States.
The popularity of the Gancia wines in the world continues to increase and, over the past 4 years, the production growth has amounted to an impressive 47%.
ABOUT GANCIA
Founded in 1850 by Carlo Gancia, the creator of the first Italian sparkling wine, Gancia is an international leader in the production of sparkling wines, aperitifs and vermouth. With over five million kilograms of grapes vinified and more than 1 km of underground historical cellars, Gancia, based in Canelli, in the heart of Italy's Asti region, from the beginning has established itself as a symbol of the "Made in Italy" drinking culture and today distributes to over 80 countries. The Gancia sparkling wine portfolio ranges from sweet to dry, from Charmat method to prestige vintages of Classic Method, fermented more than five years.