Go back
21 July 2017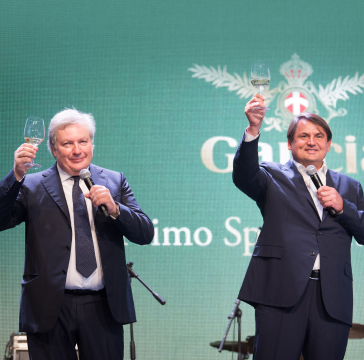 Gancia annual festival of winegrape growers
The Festival of Winegrape Growers has evolved over the last 20 years and today is a key awards ceremony for hundreds of vineyard owners in Italy. The Festival hosted more than 1200 guests, including vineyard owners, who have been supplying high quality grapes for Gancia's wide portfolio of legendary sparkling wines and vermouths for over 20 years.
The guests were welcomed by Roustam Tariko and Gancia President Alessandro Picchi. 'I am glad that reliable suppliers allow us to support the growing demand in Poland, Russia, the United States, Great Britain and other markets, and also actively conquer new countries,' — said Roustam Tariko.
The best grape suppliers were awarded with special diplomas and exclusive gifts. Guests enjoyed a sumptuous dinner, accompanied by exquisite Gancia sparkling wines and refreshing cocktails with Russian Standard premium vodka. After the awards ceremony, the evening continued with a concert of a famous Italian singer Paolo Belli and a DJ set.